343 Details Season 2 Updates for Halo Infinite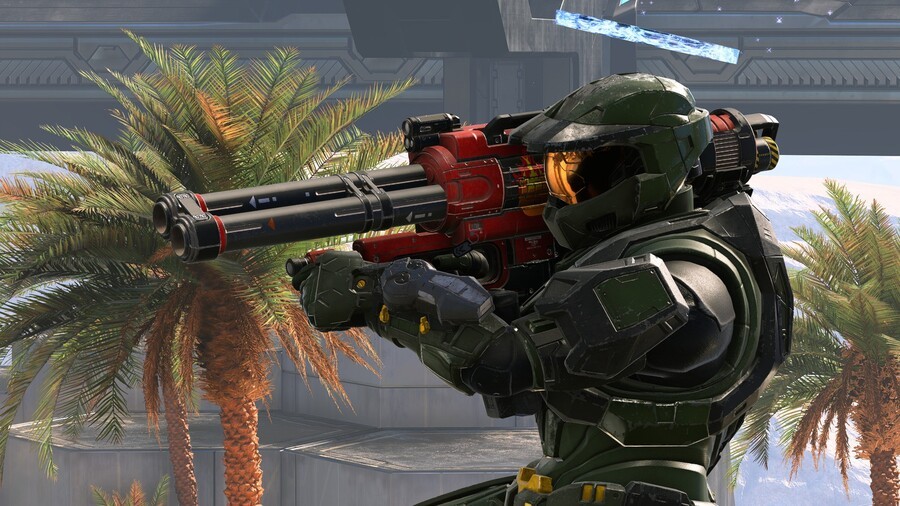 343 Industries has a new Halo Infinite 'Season 1 Results Report' – detailing all the feedback and steps taken to address fan concerns.
While most of this blog update is focused on Season 1, the team has also provided another rundown of what to expect from Season 2. Here's the TL;DR version of some of the things players can expect from S2 when it launches on May 3:
Season 2
AUDIO
Ability to hear an opponent's shield reload sound is reduced to avoid providing too much information about a player's location
The volume of the Grunt Birthday Party sound effect is increased in Campaign
MULTIPLAYER
Arena
Catalyst (new Arena map) will be added to multiple playlists on day one
King of the Hill will be added to multiple playlists
Attrition battle is added to multiple playlists
In Attrition, a revived player can move immediately after being evicted again
Motion Tracker (Radar) has its outer edge detection enabled for shooting and sprinting in social playlists
Big Team Battle
Breaker (new BTB card) will be added to matchmaking on day one
Jeff Steitzer's voice returns to shout player-earned medals
Fixed an issue causing asymmetric spawns from weapon racks
Matchmaking
Instead of tracking a player's entire session, the CSR progress bar now displays the progress of their most recent match
Custom games and forging
Fix some bugs in Custom Game, and more to come
Personal AI and Spartan chatter
Balance adjustments have been made to emphasize what matters most to players
pc
Noticeable stability improvements; the team has solved dozens of PC crashes
SANDBOX
Networking
Melee combat should be more consistent, with opponents "phasing" less and less "whistling" when a melee should have connected
weapons
A 10% global melee damage reduction on all weapons requires the Mangler to take two shots and a beatdown for a kill.
The Ravager's base shot (unloaded) will take more damage
Friend or foe (IFF) recognition (player outlines)
This system now has options that allow players to adjust the opacity and thickness based on their preferences
Equipment
Drop Wall will see slight performance improvements
Overshield provides a little more shielding
vehicles
Chopper Collision (splatter) damage will be increased to its vehicle-smashing glory
Banshee's agility and damage will be increased to improve his strike fighter role
Warthog & Razorback should be more resistant to flipping and bouncing
---
343 will also maintain an Outcomes blog leading up to this season, focusing on areas such as customization, store, battle pass, progress, events, theater, and observer mode.
You can get a more in-depth look at everything related to Halo Infinite Seasons 1 and 2 on the Halo Waypoint website.
Are you looking forward to the updates coming to Halo Infinite? Tell us in the comments.