7 sticks left for Cyberpunk 2077! Everything you need to know
It feels unreal but now there are barely seven days left before we can sit down and play the most anticipated game this year! With over six months of delays, the emotions will probably be strong when we step into the shoes of V to set fire to Night City, kick Arasaka in the ass and replace our meat with chromed metal.
CD Projekt Red recently announced the times when Cyberpunk 2077 becomes available in the different regions. Physical copies are a bit out of their control but that does not stop them from appealing / threatening players not to stream the game before release. In addition, we have the complete hardware specifications for Cyberpunk 2077, as well as features that facilitate streaming and cross-save between generations.
Prepare for a data injection.
If you are looking for more information on Cyberpunk 2077 as a game, we encourage you to read our detailed guides, All We Know About Cyberpunk 2077, Cyberware, and Attributes, Skills, and Perks.
Release
The global release times for PC and Stadia are as shown below (from CD Projekt Red). For us at home in Sweden, it applies 01:00 on December 10. It is possible to download the game already on Monday, December 7 at 12:00 on GOG followed by 17:00 on Steam and Epic Store.
As for consoles such as Playstation 4 and Xbox One, the games will be released at midnight on the release day in each region. As for the preload, it is possible to install the game already on December 3 on Xbox One and up to two days before on Playstation 4. Those with the next generation of consoles will be able to download them on the new consoles as long as Cyberpunk 2077 is purchased on the same account.
We have so far no information about any day-1 patch. Hopefully it is embedded in the download upon release.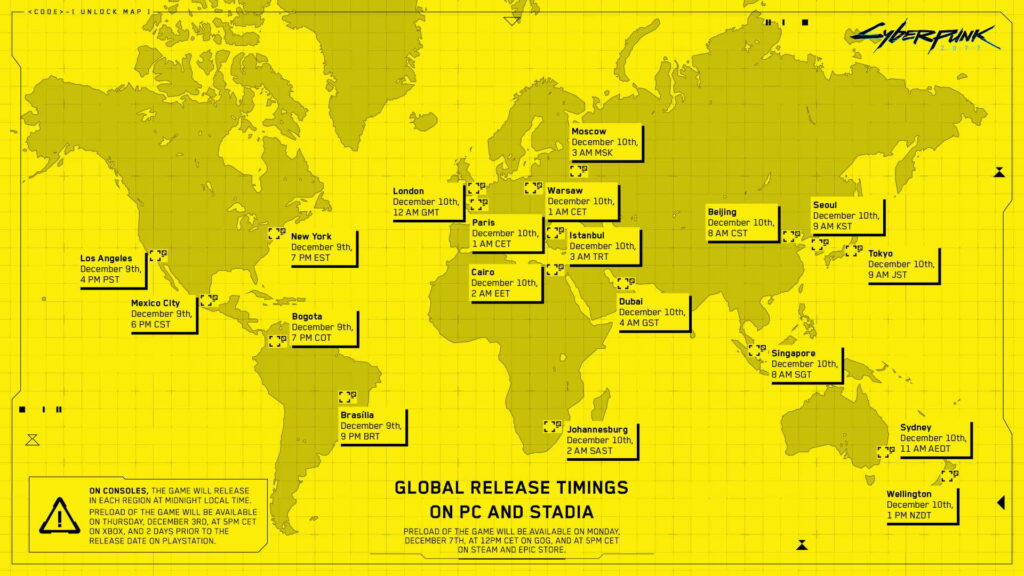 Streaming
For over a week, illegal editions of Cyberpunk 2077 have been circulating that people have tried to sell on eBay and streamed while being smoked. CD Projekt Red warns all fans of potential spoilers online and urges anyone who gets the game earlier (for example the physical release that can be delivered earlier than expected) not to stream Cyberpunk 2077. Those who choose to violate CD Projekt Red's calls will have to live with the consequences.
When the game has since been released, the studio wants fans to stream as if there was no tomorrow. Cyberpunk 2077 is specially developed with streaming in mind and has several features to make it easier for fans. Among the game's settings, there will be a function to censor nudity and another function to turn off specific songs in the game that CD Project Red does not have full rights to.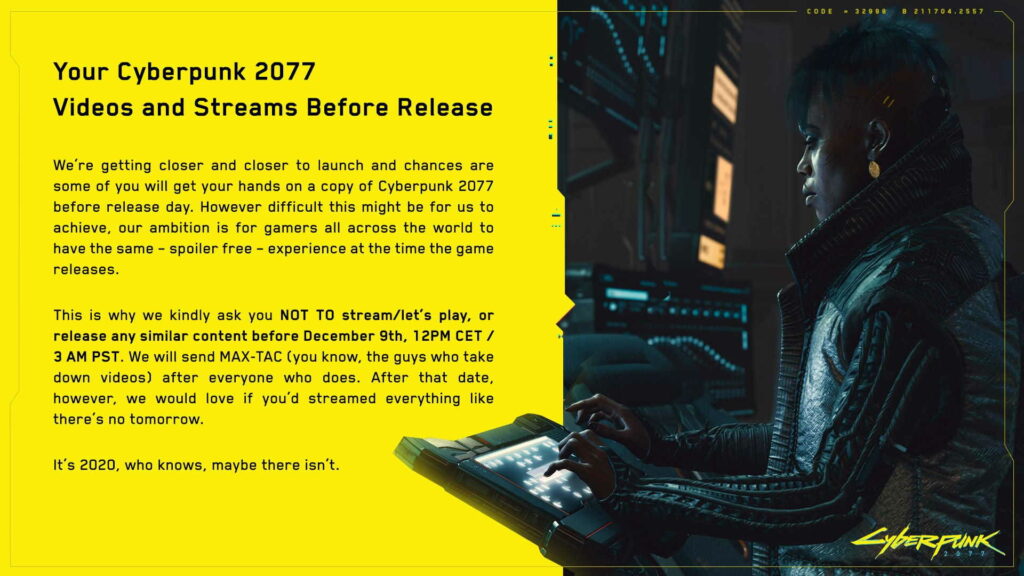 Cross-save
The other day, CD Projekt Red announced that Cyberpunk 2077 has cross-save within the console families. This means that when you take the step from the current generation to the next generation, you can take your savings files with you. How this is done is very uncomplicated but differs between Sony and Microsoft.
Playstation 4 to 5
On Playstation you have three options. To begin with, you can use Cloud Save if you have Playstation Plus, then you just choose to save the files in the cloud via the service. It is also possible to transfer the files via a LAN cable or wifi between the consoles. Finally, you can use a compatible USB stick to copy and paste the files.
Xbox One for Series X / S
In that Cyberpunk 2077 Using the Smart Delivery System on Xbox, you do not need to do anything at all, provided your devices are connected and using the cloud features. Then you just need to start the game on the device you want to play on and then the console fixes the rest.
System requirements
Everything a PC gamer needs to know. If the image happens to be of poor quality, we refer you to the original at Cyberpunk 2077: s Facebook page.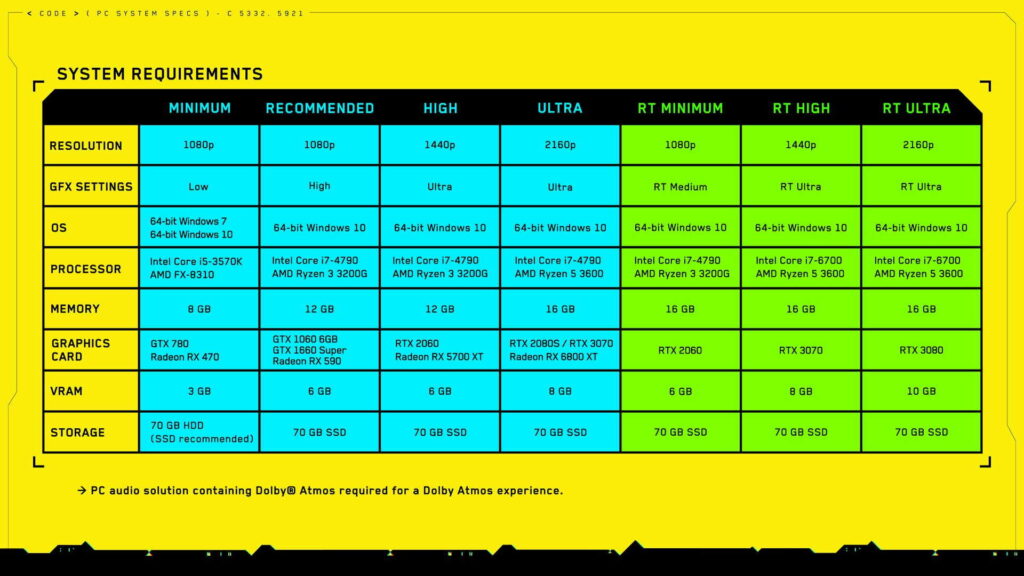 Bonus
If you have pre-ordered Cyberpunk 2077 on Steam you get an exclusive short story at no extra cost. It's called 2 AM-She Calls and is written by the game's story lead, Tomasz Marchewka. In the short story, you get to follow former police officer Frank when he works the night shift as a combat taxi driver.
Everyone, regardless of platform, will be able to receive various bonuses when they register Cyberpunk 2077 on GOG. In addition to the rewards pictured below, you get additional rewards for each CD Project Red game you own, for example Gwent and The Witcher 3: Wild Hunt. '