A first look at the free Eldest Souls expansion, Depths of the Forgotten
Eldest Souls is a critically acclaimed soul-like action RPG available for PlayStation 4 and PlayStation 5. Today we're releasing the major expansion, Depths of the Forgotten, which adds approximately 30% more content and even more brutally challenging bosses, all for free. Packed with tons of content, you'll discover new locations, bosses, and weapons, as well as discover new lore about the history of this world.
You are humanity's only hope, along with your greatsword of pure obsidian, you are tasked with facing the Old Gods, who have unleashed great desolation upon the world as their final act of revenge.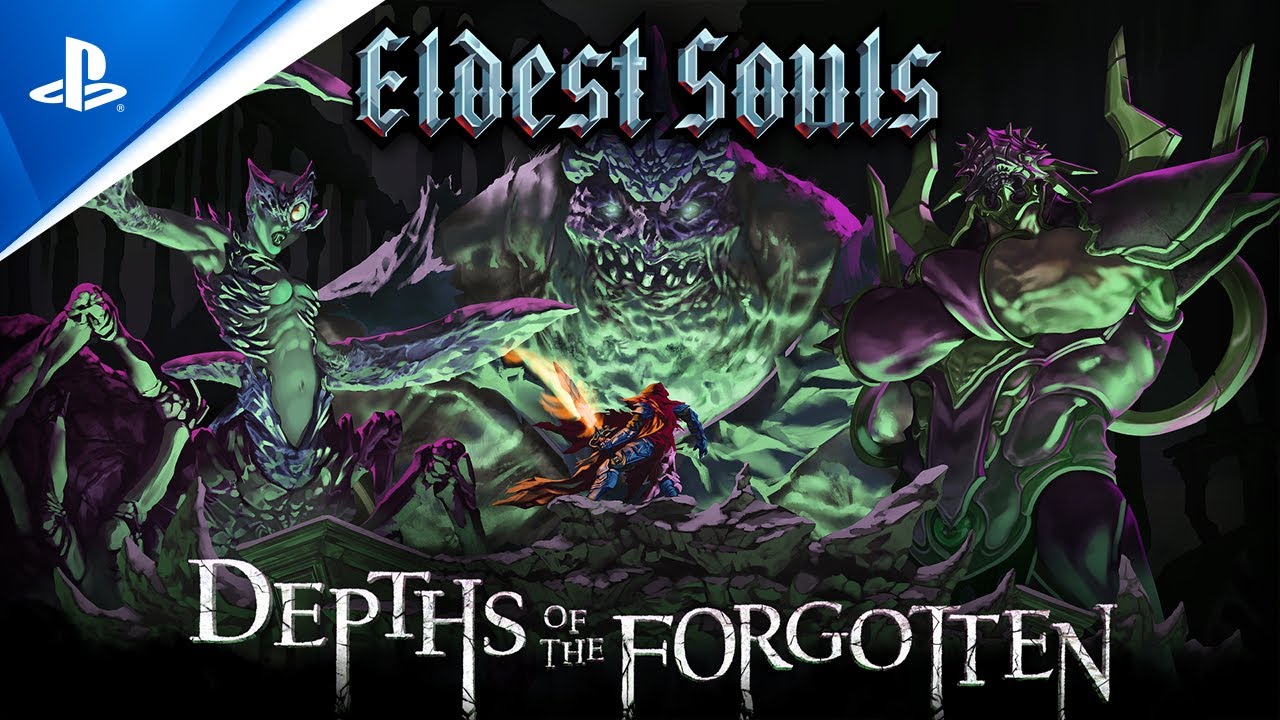 New areas to explore
With the Depths of the Forgotten expansion, it is possible to explore what lies behind the gate in the Enchanted Forest. As the name suggests, you will descend deep below the Citadel into new and unknown areas using a mysterious elevator. These uncharted locations are home to some of the toughest bosses you've ever faced. Are you up for the challenge?
the rejected daughter
The first of three new bosses is the monstrous result of blending human and divine genes into one being. The Rejected Daughter was Eksyll's failed hope for a worthy heir. Rather than put the creature out of her misery, Eksyl decided to keep it locked away, deep in the depths, and the years have not been kind…
Zylad, Lord of Steel
Zylad, Lord of Steel, is the result of his battle-filled past. Zylad was always a fierce adversary, but thanks to Eksyll's enhancements, he soon gained godlike powers. Leading the legions that invaded the Citadel, Zylad's newfound strength caused him to act above his position, ultimately leading to his discharge and imprisonment in the Depths.
the rotten crown
The corpulent King Otto swore that he would not perish along with his crumbling Kingdom and sacrificed much to a winged savior for the gift of eternal salvation. Unfortunately for her Majesty, the would-be Savior had no desire to part with his new royal plaything and instead locked him away for his own twisted amusement.
Orenai the Watcher
As you travel through the Forgotten Depths, you will come across a mysterious creature guarding the elevator. This is Orenai the Watcher, a new NPC, and while reluctant to share any information he will help you on your journey.
Unlock new weapons
Making your way through these areas, you'll find a selection of all-new unlockable weapons that provide significant buffs and debuffs. For example, 'The Executioner' will greatly increase damage output, but will come at the cost of lowering movement and defense. Choose wisely and unlock all four.
wrath of the empire
Finally, there's a new shard that adds even more options to your already strong arsenal to take on the various bosses. We won't spoil what you need to do to get this, but we can guarantee it's something you'll want if you intend to be successful.
The positive reaction and support from the community for Eldest Souls, our first game, has been overwhelming. As a small team of friends who dropped out of college to pursue their dream, this has meant a lot to us. All of this new content is our way of saying a big "thank you" to everyone who has played it. We hope all new and old Eldest Souls fans will enjoy it!