As fans eagerly await new snippets of Final Fantasy 16, the game unveils a new never-before-seen image…via a t-shirt
Final Fantasy 16 will soon give its news. Naoki Yoshida, producer of the game, had announced the color: the next numbered opus of the saga will return with a brand new trailer this spring. If this long-awaited communication around FF16 is still long overdue, the game returns with new artwork revealed in a somewhat incongruous way.
A never-before-seen artwork from FF16
Fans of the license have known it for a week already, Final Fantasy and Uniqlo will collaborate on the occasion of the 35and license anniversary. The chain store had spilled the beans a little prematurely, but this time the t-shirt collection was officially revealed. The opportunity to discover a new image of Final Fantasy 16 unpublished in better quality.
We find Clive, the main hero of the game, as well as Ifrit, the summon to which he is linked. The mysterious symbol marked on his face is also present. We imagine that it has a particular meaning, but we will have to wait before knowing it. Alongside them, the quote present in the first trailer recalling that the history of FF16 will be closely linked to crystals.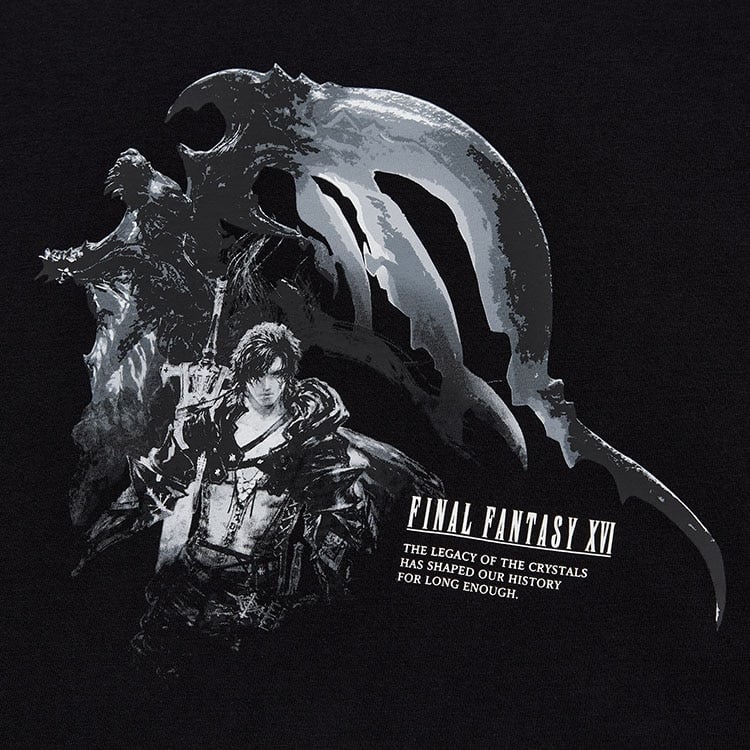 A collection of Uniqlo x Final Fantasy t-shirts
Final Fantasy 16 is not the only one to have the right to its own t-shirt. Each episode of the saga will be present in the range, at least only the numbered ones. Forget spin-offs like Crisis Core, Tactics or Type-0, the collection only highlights the sixteen main episodes. For the moment, only Japan seems concerned. Each t-shirt will be sold individually for ¥1,500 each (about 11 euros) from April 29, 2022. A box set limited to 5,000 copies containing the entire collection and an unreleased card game will also be available for 24,900 ¥ (about 182 euros).
Regarding FF16, we still do not know when it will finally resurface. Nevertheless, if giveaways with his effigy are already beginning to appear, we can hope that it is only a matter of time. This is in any case what the producer of the game had promised, who wanted to show it again only when he was sure that he would really make players want to buy it. It is now only a matter of months or, if we are lucky, weeks.