A nightmare to collect? See Little Nightmares II collector's edition
Bandai Namco has now come out with which editions upcoming horror games Little Nightmares II includes. All editions apply to Playstation 4, Xbox One, Nintendo Switch and PC. The editions can be pre-booked today from Bandai Namcos online store or at retailers.
Little Nightmares II released on February 11, 2021.
The Day One release gives players a small exclusive DLC called Nomes' Attic, as well as a small soundtrack from the game's composer Tobias Lilja. This edition will probably be discontinued over time and replaced with a regular edition where only the game is included. Pre-bookings of the Day One edition also give you the Mokujin Mask to equip the character Mono with.
NOTE! Digital pre-purchases come at a later date.
TV release of Little Nightmares II
The edition aimed at collectors and fans contains everything you can expect from a collector's edition. In addition to Nomes' Attic DLC and the Mokujin mask, the full soundtrack, an art book, steelbook packaging and stickers from the game. The crown jewel of the edition is the collector's figure that gives the edition its name: a diorama on Mono that pulls Six out of a TV!
Advance bookings of the TV edition from Bandai Namco's online store also provide a keychain with Mono and a lenticular print.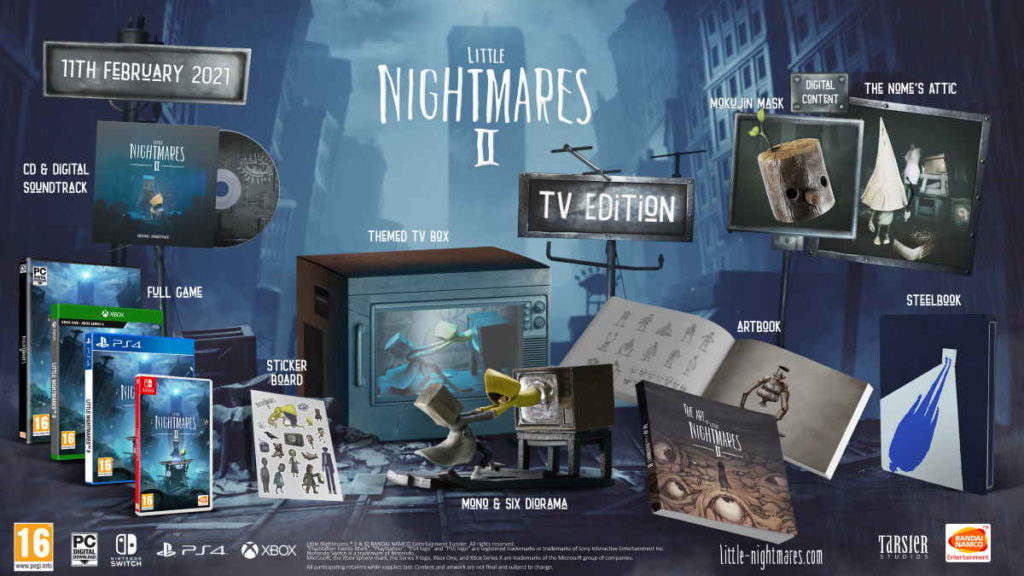 Little Nightmares II will in the future get a free upgrade from Playstation 4 to Playstation 5, as well as Xbox One to Xbox One X.