Alicization Lycoris reverts Sword Art Online's dating simulator
Collect social points with your peers and take the relationship to the next level. Sounds sloppy.
On July 10 releases Bandai Namco Sword Art Online: Alicization Lycoris and we again have to step into Kirito's shoes again. As the title reveals, Alicization Lycoris recounts the third season of SAO, Alicization, as Kirito adventures in the VR world Underworld.
The latest trailer confirms what I dreaded: that Lycoris will have a stylish dating system. Although what we see in the trailer does not seem as slick as what we had in Hollow Realization, I fear the worst. Gum disease is widespread in Sword Art Online. Very often the series tends to fan service and on several occasions it has used female characters for so-called plot points.
IN Sword Art Online: Alicization Lycoris the player can earn Social Points to get to know Kirito's friends in depth. Through meaningful conversations, they should form strong bonds with each other and give the player insight into the characters. The player needs to heed what the characters say and give the right response to level up the friendship. Everything sounds fine, but the substance determines if this system makes any sense.
I have my doubts. Especially when the visuals in the trailer show only brief, bland comments from the characters, where the focus seems directed toward pleasing the character and making the heart grow.
Deep role-playing system
If we shift our focus to something more positive, we can confirm that Sword Art Online: Alicization Lycoris maintains the role-playing genre's established system. We are told that you will be able to customize Kirito's appearance (yet unclear how this will affect film sequences and graphic dialogues) and customize the equipment with cosmetic transmogrification, hats and coloring. We also see that several crafts are available.
Please read our preview of Sword Art Online: Alicization Lycoris.
Forging allows the creation of weapons that can have multiple skills, hopefully also unique combinations of skills. Engraving provides accessories with multiple characteristics and alchemy allows the player to create medicines and cures to take on the adventure. Hunting and fishing provide access to the necessary raw materials for cooking that both increase your social standing with characters and strengthen them for upcoming battles. The way to the heart is through the stomach, huh?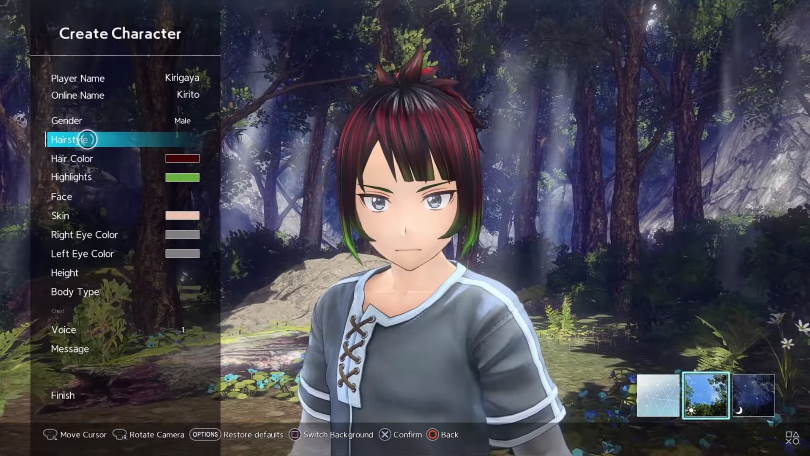 We have not yet seen exactly how attributes and characteristics play into the character development, but if I know Japanese role-playing games then I know that they are usually quite advanced. Previous SAO games have had deep systems for players to invest in and I think Alicization Lycoris will follow that form.
Sword Art Online: Alicization Lycoris will be released on Playstation 4, Xbox One and PC via Steam on July 10.