Ascending Tide for The Elder Scrolls Online is a fun addition to the huge online role-playing game
The Elder Scrolls Online has for several years now driven the successful annual form of updates: dungeon DLC, chapter expansion, dungeon DLC rounded off with story DLC. Ascending Tide is the introductory dungeon DLC for this year's fairy tale called Legacy of the Bretons. By the summer, we will see the expansion High Isle which will be the next chapter in the online role-playing game. Both dungeons like Ascending Tide contains are action-packed adventures that give players a small taste of the story in Legacy of the Bretons. But like all previous dungeon DLC, they are not necessary pieces of the puzzle in the story, but rather complementary.
Ascending Tide gives access to The Coral Aerie and Shipwright's Regret, two dungeons that are harder than those in the base game. Each dungeon contains four sets of weapons and armor, achievements and collectibles of various kinds. Ascending Tide is now available for PC and Mac, as well as Playstation, Xbox and Stadia. You buy it for 1500 Crowns (equivalent to approximately 139 SEK), or if you subscribe to ESO Plus you get it at no extra cost during your membership.
You can read more about ESO Plus here.
Shipwright's Regret
Help Captain Za'ji locate valuable ship drawings that can upgrade his love and pride – his ship The Perfect Pounce. The adventure begins on the outskirts of the marina's sawmill and it already becomes clear here that evil forces are preventing the dead from resting in peace. It soon turns out that you are not the only ones in the marina and disturbing the guests guarding the wrecks. A battle for the drawings pushes you hard, they must not end up in the wrong hands.
Shipwright's Regret is a spooky adventure lined with humor thanks to Captain Za'ji. The bosses are intense and rounded off with an epic battle by the sea. The area has varied environments, but a rather gloomy palette of gray and rotten colors. There are several secret bosses to trap but no exciting interactions, the map itself is very linear.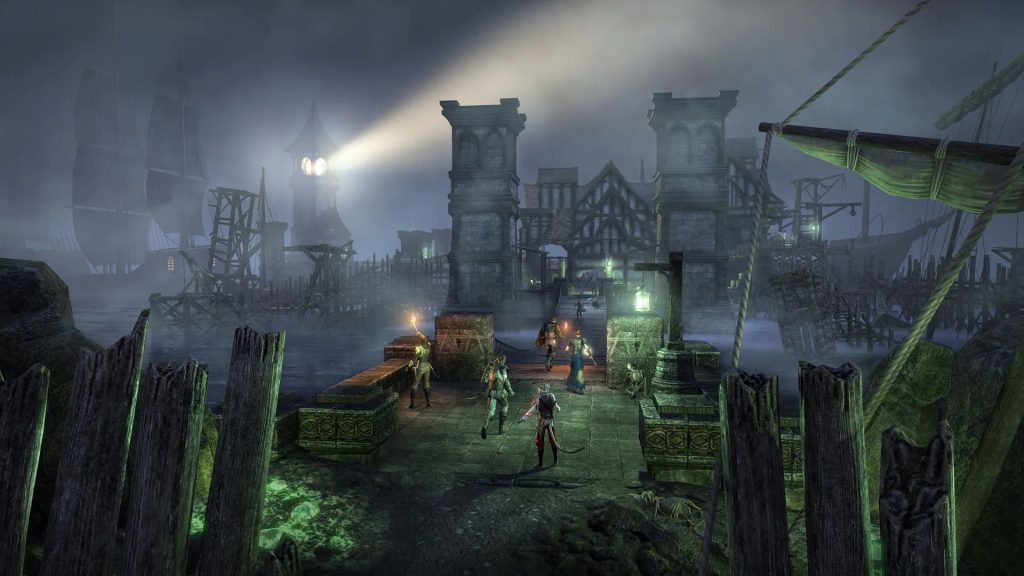 The set that can be found here is as usual one for light, medium and heavy armor and is suitable for the classic trinity of tank, dps and healer. The Turning Tide set is a cool tanking set that reminds of the final boss' special attack and can send out a wave that does dmg and debuffs enemies after you block an attack. Sprigan's Vigor is an exciting set for stamina / crit builds and boosts your stamina for every crit you make.
The Coral Aerie
Captain Kaleen needs your help to rescue the charming villain Jakarn who has somehow been captured by a mysterious group called the Ascendant Order. Attack their hiding place along a coral coast and fight through caves and ayle ruins before it's too late. Although you are not the only ones fighting the Ascendant Order, yaghra attacks wildly along the coast. What can they be looking for?
The Coral Aerie is a much more colorful and visually varied dungeon, with sunny beaches, water-filled caves and magical ruins. The adventure here is also more refined, with fun effects if you choose to take part in a secret mission, the interactions between Kaleen and Jakarn are well written and some of the boss fighters are spectacular! Bonus points for the fun crabs around the map that have different scenes.
If you are a healer or hybrid healer, Maligalig's Maelstrom can be something for you then will be able to contribute with dmg when you over-heal someone. Then that player gets an area effect dmg that damages everything around him. Gryphon's Reprisal on the other hand gives you lots of crit chance and an area effect bleed when you get a critical hit.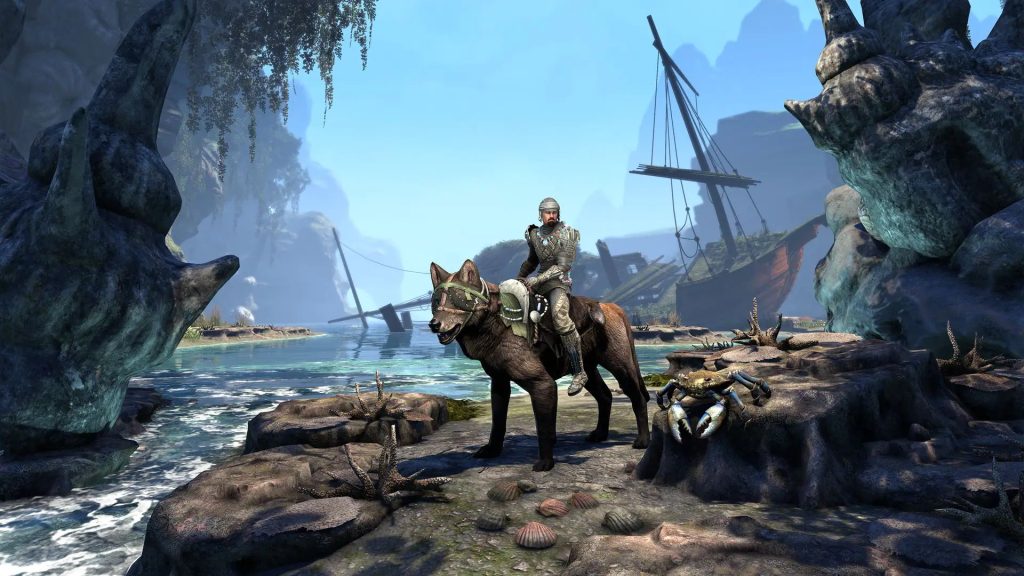 Fun adventures for dedicated players, superfluous for period players
The Elder Scrolls Online is a huge game. There is so much in just the bass playing. In addition, if you add all the expansions and DLC, you have thousands of hours of content and materials for countless potential builds and the freedom to engage in lots of activities. These dungeon DLC expand the game with two caves to overcome and the ability to collect new sets of weapons and armor to combine with existing ones. In terms of story, it is as a side assignment that connects to the larger story, but on the whole they are voluntary and independent.
You can read more about Ascending Tide and Legacy of the Bretons here.
For that reason suitable Ascending Tide most for dedicated fans of The Elder Scrolls Online who plays regularly and follows the story. For those players, every little bite is valuable, even if the sum of the material may not have any material value. These players probably already subscribe to ESO Plus and still have free access to Ascending Tide. For players who jump into ESO sporadically and perhaps play the free version, there is not enough reason to buy Ascending Tideas the basic game offers so much more.
For the players who love The Elder Scrolls Online but playing in periods, I strongly recommend that you activate ESO Plus during the time you are playing. This gives you more value for potentially less money, plus you get access to all the game's DLC. When you do, play each dungeon a couple of times and collect the sets to have them at a later time.