Ballad of Buck Ravers from Cyberpunk's Samurai sings freely on the tube
The Samurai song can now be heard by everyone.
Now fans can listen to yet another official Samurai song written by Swedish punk band Refused (which also made Chippin 'In and Never Fade Away). Ballad of Buck Ravers reflects life as a corporation, that is, corporate employees who, like everyone else in Night City, have a destructive profession.
IN Cyberpunk 2077 among other things, you will be able to start the adventure as a corpo employed by the mega company Arasaka. Of course, you will fall off the career ladder and become a lawless, but if the Ballad of Buck Ravers appeals to you, you might consider the idea of ​​rolling a corpo that bites back the hand that failed you.
Cyberpunk 2077 will be released on November 19 for Playstation 4 and Xbox One and PC. The game is forward compatible with Playstation 5 and Xbox Series X as long as it is within the same console brand.
Ballad of Buck Ravers was previously only available via a QR code on the Xbox One Cyberpunk 2077 Limited Edition controller, but can now be enjoyed by all cyberpunks out there.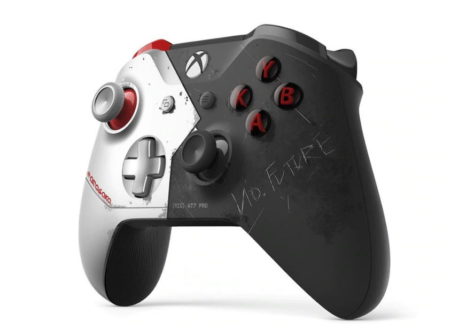 Lyric: Ballad of Buck Ravers
Lost another day
to pointless drudgery
the slow chipping away
or my autonomy
a rodent in a race
unsung and underpaid
my colleagues seem to like me
like slaves in a sheep array
then a shock goes through the hearth
at the nauseating purr
of the corpos of the world
when the content is secured
cause naked emperors
hear the rattling of the purse
I hunger for the hearse
cause nothing could be worse
than a life lived like a limb
in a debt anatomy
rather be dead than a link
in a chain of tyranny
need a way to set it straight
need to go out on the edge
need to rage and get revenge
need to feel myself again
suit up punch in punch out non stop
suit up punch in punch out get fucked
pressured to mount
the backs of my brothers
clamber for clout
year after year
the load multiplies
up high on the ladder
the bottom falls out
then so does the fear
Had
enough
Done
enough
here comes
Revenge
here comes
the end
blood spatter in my face
dead suits in my way
bullets piercing me
mama here comes liberty
need a way to set it straight
need to go out on the edge
need to rage and get revenge
need to feel myself again
instead of
suit up punch in punch out non stop
suit up punch in punch out get fucked
know how I started
but I was once a decent man
the promises I made
were made to keep me a slave
cornered and kept on a wage
to come the worst of my rage
one day the curtain falls
time comes for all
time comes for all
now you're gonna feel it
time comes for all
now you're gonna feel it
time comes for all
now you're gonna feel it
Had
enough
Done
enough
here comes
Revenge
here comes
the end
Music by David Sandström, Kristofer Steen, P.T. Adamczyk. Text by David Sandström, Dennis Lyxzén. Mixed by Martin "Konie" Ehrencrona and Mastered by Magnus Lindberg.
Executive Producer: P.T. Adamczyk