Cyberpunk 2077 patch 1.3 makes the GPS map better and I could not care less
Cyberpunk 2077 Patch 1.3 is a bold download of about 40 Gb depending on the platform. It contains hundreds of bug fixes and tweaks. You can read about them here. It is an incredibly long and gloomy reading that once again proves how terribly bad the game came in. I could not read all the changes because I am no longer interested in what "fixed various issues with elevators" means.
As an attempt to put patches on fans disappointments contain Cyberpunk 2077 patch 1.3 also includes the game's first three free DLC. Congratulations to all Cyberpunk fans! Here you have two visually mediocre jackets without special features, a Fanta-orange car and a new emo look for Johnny Silverhand. I'm sorry but what the hell? After a disaster like Cyberpunk 2077 at least I think fans who burned their money on this fiasco would at least get something more substantial from the oh-so-generous free DLC. Hairstyles and the ability to cut and make up; brand new weapons; God forbid new cyberware! Or how about another apartment? Players love to tailor their experiences, but apart from futuristic fashion clothes, we currently have no options to vary our appearance.
Sigh.
Oddly enough, CD Projekt Red chooses to highlight a couple of seemingly small improvements, as if they were major breakthroughs in the game's restoration. One is that the mini map zooms out when you are in a vehicle, which should make it easier to navigate at high speeds. Oh well. The second is that they have made it clearer and easier to choose sex workers during one of the story assignments. I do not know what to say. If these are important points according to CD Projekt Red then all hope is gone. Then we will never see the appearance of cybernetic limbs on our characters, cosmetic adjustments to the appearance, new weapon classes or enemy types.
Actual improvements
Okay, I'll give the hard-working developers a little cred, they's innocent of the bosses and the board. Patch 1.3 contains several improvements that are necessary for the game's further development. Of all the general bug fixes, it is possible to find actual changes that make the game a little better. For example, it is easier and cheaper to buy a return on their properties, which allows players to more generously test different builds and properties. This can now be done via a button on the skill tree and costs significantly less than the Tabula mojängen you previously had to buy from ripperdocs.
Another improvement that I think makes the game a better experience is that enemies on more difficult levels of difficulty search for sneaky players more aggressively, and that they fight more persistently. Players have long complained that the game is too easy when the character starts to level up, that the enemies are just as stupid regardless of difficulty. Now maybe the game is more challenging. The police have also received some adjustments and do not become murderous as soon as they encounter dead bodies on the streets of Night City. At the same time, emergency shootings are adjusted so that civilians do not happen to die from the slightest scratch. This is a further fix, as a previous patch also attacked this issue.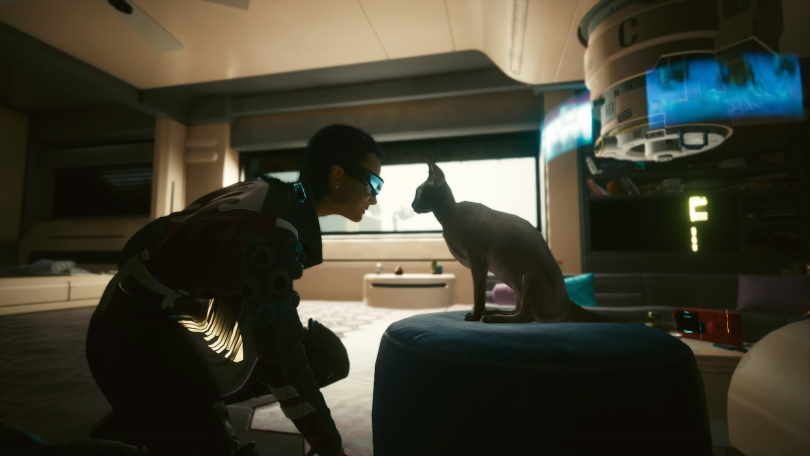 Furthermore, we see several improvements to crafting and buying objects, where you can, among other things, build piles of objects in one go instead of each grenade / medicine separately. It also made me a little happy and elated that NPCs should no longer crouch when they hear gunfire and that they should flee instead of being locked up. But the best update of all is that the cat you can adopt has more sleeping places in the apartment. Too bad you can not give it a name or necklace. Or pat it!