European gamers prefer physical games, ratio revealed
The subject of the progressive and visibly inexorable dematerialization of video games has generated much debate for several years. The sales of dematerialized games continue to gain ground, to the great pleasure of publishers who have everything to gain by selling only dematerialized. However, some audiences continue to prefer boxed play. Which seems to be the case with European PS5 players.
In Europe, PS5 gamers continue to favor the purchase of physical games. This information was revealed by Global Sales Data during the virtual conference GI Live: London last month. And according to the statistics revealed, the gap in favor of boxed games has even widened in recent months.
PlayStation players in Europe loyal to physical games
Between November 2020 and the end of August 2021, sales of PS5 games have therefore exceeded those of dematerialized games in Europe by 51%. According to GSD, digital games have never sold better than boxed games during this entire period.
Indeed, physical games are systematically ahead since November. And as noted above, this difference has grown over time. In December 2020, for 5 physical PS5 games sold, 4 were purchased from the PlayStation Store. At the end of last August, this European ratio was 3 to 2.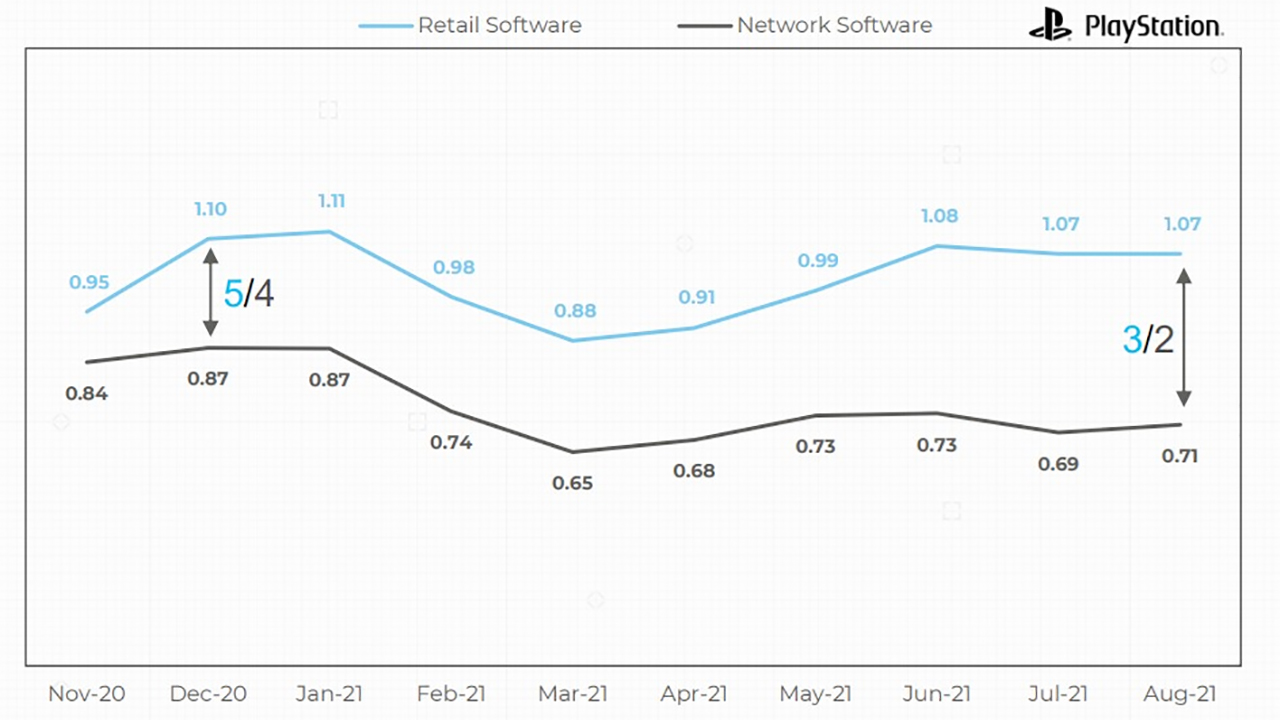 Between the European launch of the PS5 and the end of August 2021, 10.14 million physical games have been sold. Over this same period, "only" 7.51 million dematerialized games were purchased. Over this period, the million-copy mark has never been passed by digital games. Boxed games have done this five times, however.
In Europe on PS5, we are investing in plastic
The site GamesIndustry, which relays these figures, specifies that GSD analyzes the sales of boxed games in 23 countries. And in terms of sales of digital games, it analyzes data from 49 territories. GSD believes that there are many reasons for this situation.
First of all, consumers would prefer to switch to the physical versions due to the high price of the games. Then would come the traditional desire to be able to lend or resell their games. Finally, GSD says that dematerialized sales often concern older titles. The PS5 is a recent console, the number of dematerialized games available to it is therefore limited.
If GSD's statistics are correct, they indicate that physical play is resistance. At least on the European PS5 side.
What do you think of these statistics? Do they surprise you? Do you think physical games still have a future on PS5 or elsewhere? Tell us all in the comments below.