Hardware of the month – 7 new tests!
Seven hot tests with everything from exclusive gaming chairs to a screen with magical flow in 360 Hz.
An exclusive gaming chair with extremely high comfort
Gaming chair
Noblechairs EPIC Mercedes-AMG Petronas Formula One Team Edition Gaming Chair
4 690: – Noblechairs.com
A limited edition chair inspired by Mercedes-AMG Petronas F1 Team.
Noblechairs has one of the market's widest range of gaming chairs, with solutions for all users and wallets. This is the latest addition to the legendary Epic series, and the seat, which is inspired by the Mercedes-AMG Petronas F1 Team, is truly something out of the ordinary and without a doubt one of the most well-built and well-thought-out gaming chairs we have ever sat in.
The chair has a clearly solid construction that has its base in a five-branch aluminum stand where easily rolled, double wheels are attached. On this is a gas spring that handles a load of up to 120 kilos. The chair itself has a steel frame, which makes it extremely stable regardless of which position we choose to have the backrest in.
The chair has a very spacious construction with a large cupped seating area and backrest for perfect comfort. Around the frame there is a layer of hardened foam which is then covered with a hybrid PU / Vinyl solution which together gives a solid and very comfortable feeling even after several hours of playing. To further improve seating comfort, both the neck and waist cushions are included, which are both equipped with awesome Mercedes-AMG Petronas logos.
A big plus is that the material directly distributes the heat, which means that it never becomes as hard heat-sticky as can sometimes be experienced on cheaper alternatives. In addition, the whole chair is easy to wipe off and keep clean.
The armrests on the chair also shine with quality with a solid, foam-equipped relieving surface that we can adjust in both height and sideways, as well as rotate and slide forwards and backwards to always provide maximum relief. This also includes that we get awesome looking and solid buttons to adjust all settings. A clear plus.
Of course, we can also adjust the height of the chair and lock it in a certain position. In addition, we can easily adjust the resistance on this rocker part by turning a larger knob on the underside. It is worth noting that the chair, thanks to its solid construction, weighs almost 30 kilos. Despite this, it is very easy to assemble and from the time we open the box until the chair is ready, it takes just under 10 minutes. All tools (a special Allen key), and extra screws are of course included.
Considering both the chair's comfort and not least the sickly stylish design, this is a model that fits just as well in the office as at home by the gaming can. No matter where you use it, you will sit like a king.
95%
Also read: The shortage of new graphics cards will continue this spring
---
HEIGHT: 127–137 cm
WEIGHT: 28 kg
SEAT WIDTH: 57 cm
CHAIR DEPTH: 56 cm
WHEEL: 5 pieces 60 mm
GAS SPRINGS: Class 4
BODY: Steel
UPPER: PU / Vinyl leather
CUSHIONS: Neck and lower back
COLOR: Black with green details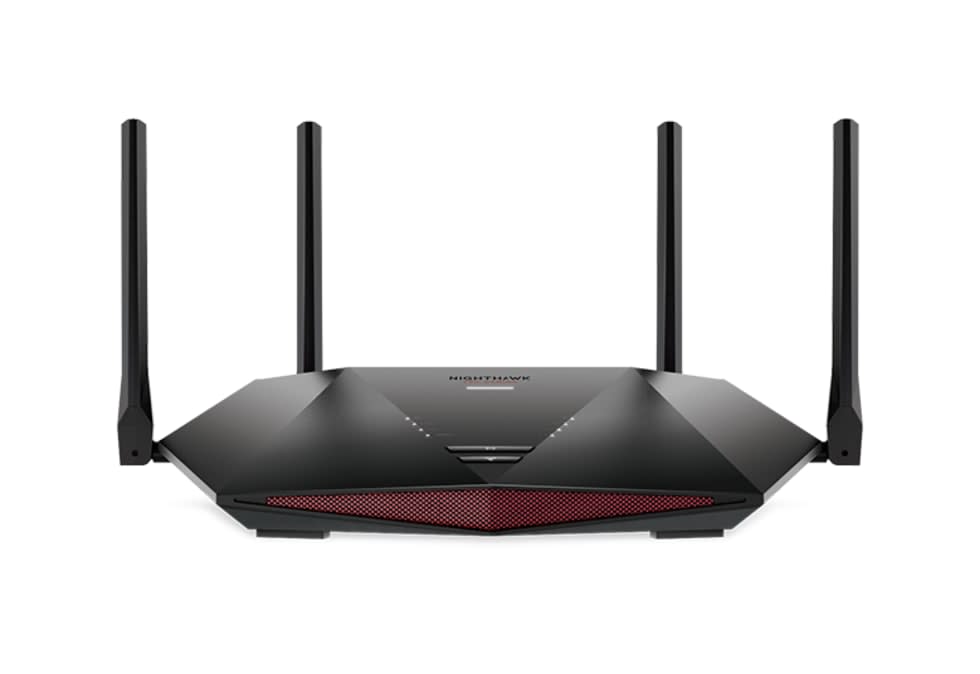 Nighthawk raises the bar for wireless low-latency gaming
Router
AX5400 Wifi Gaming Router (XR1000)
2 799: – Netgear.com
With a focus on awesome wifi gaming and outstanding low latency.
Netgear is a bit of a three-part company with solutions for "ordinary" consumers, for companies and, of course, the gaming side. Unlike some other similar companies, Netgear takes full advantage of its expertise in-house, which means that when smart solutions appear on one side, it is optimized and adapted quickly to the other areas.
This time we have taken a closer look at one of the company's latest gaming routers from the upper middle segment. The model, called the Netgear Nighthawk XR1000 or AX5400, is an interesting model with plenty of strengths but also with some weaknesses – or perhaps rather: less strong sides.
If we start with the unit's design, we get something similar to a wide sports car with a slightly forward-leaning, slightly streamlined design. The model measures 295 x 200 x 64 mm and weighs 600 grams, which are relatively standardized values. In total, there are four external antennas located in the rear region.
At the back we find the unit's fixed connections which consist of a USB port, a Wan port and four lan ports. Unfortunately, all Ethernet ports are only gigabit model and they also lack support for teaming. Something that feels a bit small considering that it is a completely new model and we would have liked to have seen at least one multigig port and preferably more USB ports.
On the inside, we find a three-core processor that runs at 1.5 GHz, 512 MB Ram and 256 MB Flash storage, which is an approved specification that does not stand out any extra. In terms of the other parts of the unit, it still goes a long way. If we look at the wireless side, the model offers dual bands: 2.4 and 5 GHz. However, there is no support for the latest 6 GHz. The maximum theoretical transmission speeds for the model are 600 Mbps over 2.4 GHz and 4.8 Mbps over 5 GHz.
Installation for XR1000 is a little different compared to many other routers as we first have to download and install Netgear's Nighthawk app which also requires that we have or obtain a Netgear account. During installation, the device firmware is also updated, if needed, and the whole process takes about 10 minutes.
Once finished, we are met by the unit's big event: Duma Olympics. This router interface and operating system is both easy to use and has several powerful settings to optimize and prioritize our gaming. Of course, the router also has an integrated security solution based on the Netgear Armor Security Packet which is based on Bitdefender Security. To get the full benefit of this, on the other hand, a subscription is required which at the time of writing costs just under SEK 650 per year. It's not as fun.
We round off with the unit's performance where we looked at a couple of different areas. Partly the performance when connecting a unit in the same room, partly with a connection in nearby rooms, and partly when connecting an entire home's smart units to see how this affects the performance. We have also looked at the two bands separately.
The first thing we can state is that the unit maintains a very even and high performance over both bands when we compare between the same and different rooms. We measure an average peak value of 837.4 and 215.8 Mbps, respectively, over the two bands in the same room. In nearby rooms, the corresponding values ​​were 809.3 and 160.2 Mbps, respectively, where above all the last value is very impressive. When we then come to simultaneous use, the values ​​become completely different. Admittedly, we can control parts by activating different QoS settings. Overall, we can say that this is not a router that is particularly suitable as a primary home router, but as a dedicated gaming solution, the device is really, really good.
73%
---
WEIGHT: 600 grams
MEASURE: 295 x 200 x 64 mm
DOORS: 5 Gigabit pieces
CPU: 1.5 GHz
MEMORY: 512 MB Ram + 256 MB Flash
NUMBER OF BANDS: 2 pieces
HIGHEST THEORETICAL DATA FLOW: 5400 Mbps
CONNECTION: 1 USB-A
NUMBER OF ANTENNA: 4 interchangeable
INTERFACE: DUMA OS
Extreme performance that requires cooling
Storage
WD Black SN850 M.2 NVMe SSD 1 TB
Ca 2 187: – Westerndigital.com
A monster with a large dynamic SLC cache.
It is noticeable that PCIe Gen4 has really entered the second breath, and more and more manufacturers are pushing the interface to completely new levels. The SN850 is no exception, but here we get one of the absolute fastest M2 units at the time of writing. The model, which is based on Western Digital's own controls, called WB_Black G2, is in turn based on BiCS4 96-layer TLC memory.
One of the big news for this disk is that WD has chosen to invest in a really large dynamic SLC cache which for our test model can achieve about 30 percent capacity, which is the basis for an extremely high and even performance. To ensure that our data is intact, the SN850 has also been equipped with a kind of internal ECC error correction which together with an OP of about 9 percent gives us a disk that will easily live and perform significantly longer than the included five-year warranty.
Unfortunately, the disk does not support 256-bit AES hardware encryption, which has given the disk a wider range of uses. What we really like, however, is the device's software which in an easy and clear way gives us all the info about the disk, its health and allows us to update firmware, and more.
When it comes to performance, it's really fun. The disk is rated for a maximum read speed of 7000 MBps, with a maximum write speed of 5300 MBps and the corresponding random values ​​of 1,000,000 and 720,000 IOPS, respectively. To check this via benchmark, we used the storage test in PCMark 10 where we reached a total of 3,191 points, which can be compared with Samsung's 980Pro which reached 2,903 points. This gives us a disk that can pump data extremely fast, and where tracks and graphics are loaded faster than we have ever experienced. But! There is a downside. The disk comes without any cooling and if you have a motherboard that does not have extra passive cooling for its M2 slots, you will get an extremely hot device. So the recommendation is to in this case invest in an extra strong heat sink to get maximum performance over longer intervals in this way.
91%
---
CAPACITY: 1 TB
INTERFACE: PCIe Gen4
CHECK: WD_BLACK G2
MEMORY TYPE: BiCS4 96L TLC
SEQUENTIAL READING / WRITING PERFORMANCE: 7,000 / 5,300 MB / s
RANDOM READING / WRITING PERFORMANCE: 1,000K / 720K IOPS
ENDURANCE: 600 TB
GUARANTEE: 5 years
The post Hardware of the Month – 7 new tests! first appeared on Swedish PC Gamer.