Here's the first Night City Wire – and braindance gameplay
25 minutes Cyberpunk news.
We have had to wait a long time. But now we have finally seen the first Night City Wire and what Cyberpunk 2077 will offer when it is released November 19. Among other things, we get to see braindance gameplay (a previously unknown feature in Cyberpunk 2077) as well as a new crazy trailer for the game. In addition, CD Project Red announces the collaboration with Studio Trigger for a Netflix-exclusive anime until 2022 by name Cyberpunk: Edgerunners.
In just 25 minutes, this news presentation is slightly thin, but CD Project Red says that the next Night City Wire will be coming in just a few weeks. Should we bet it will be delayed?
Braindance gameplay
From 11:09 you will see the section where CD Projekt Red shows braindance gameplay and what we will be able to do with the feature. CD Project Red says that we will be able to use braindance as a tool for discovering clues in investigations, but also as a key hole in other people's lives to explore topics such as childhood trauma, religion and philosophical issues. Braindance is, according to them, a tool for storytelling – not a method of collecting and ticking off discoveries.
IN Cyberpunk 2077 is braindance, in folk BD, a media industry in which recorded memories have become a commodity. Originally it was a method of recording memories and sharing them and has been in the therapy and treatment of criminals. The BDs we will primarily be in contact with Cyberpunk 2077 is XBD, illegal BDs with sensitive content.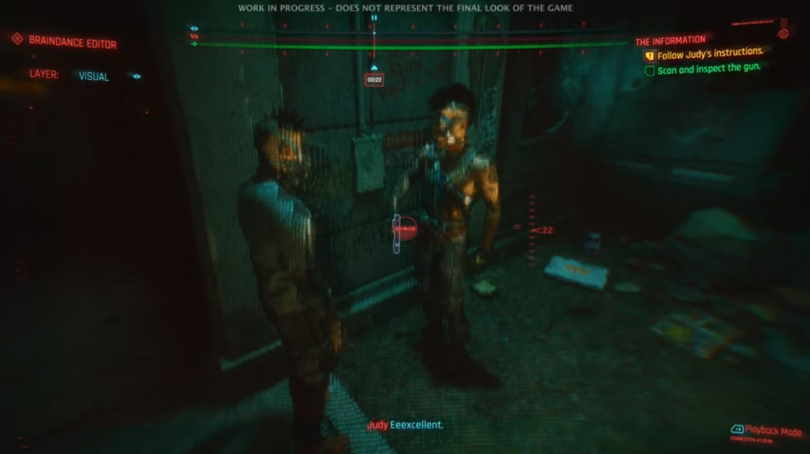 In the braindance gameplay we see from the broadcast, V is with a BD specialist named Judy. What we see is probably a tutorial from Cyberpunk 2077. In BD's we will use an editing tool to analyze memories. We will be able to fast-forward and reverse memories, as well as filter different senses to find clues to analyze. For a role-play with a heavy focus on action and dialogues, it is incredibly exciting that braindance is more focused on problem solving.
You can read more about it Cyberpunk 2077 here at Varvat or at the game official website. Cyberpunk 2077 will be released on November 19 for Playstation 4, Xbox One and PC. The game is also forwards compatible with Playstation 5 and Xbox Series X, as long as the product purchase takes place within the same platform brand.