Microsoft Rewards: Completing the Forza Horizon 5 Punch Card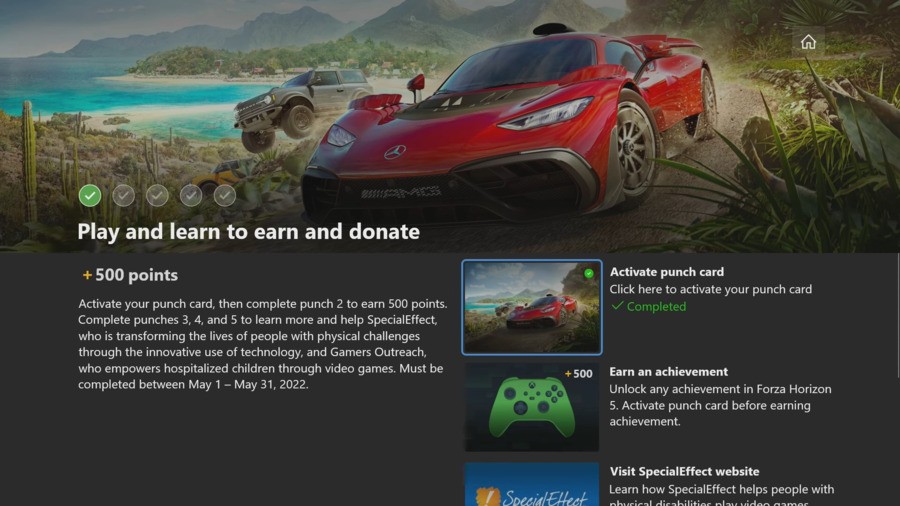 There's a new one Forza Horizon 5 punch card on the Microsoft Rewards app for Xbox, and we know what you're going to say… it doesn't work, because the achievements aren't recorded. Don't worry, you're not alone!
For now, we recommend waiting before trying to fill out this punch card† We'll update you as soon as we see reports that it's working as intended, but for now it seems like everyone is running into the same issues.
As soon as it is works, you need to do the following:
---
This is a very easy punch card to complete for the most part. It goes without saying – all you need to do is hit some links to various charitable organizations and complete one achievement in Forza Horizon 5 for 500 points.
In terms of performance, here's a list of easy potential options:
Welcome to Mexico – complete the short tutorial / intro
Race in action – complete each racing event
Customizable – complete the first Showcase event
First love – buy your first car at the Auto Show
Good Carma – like someone's photo, blueprint, tuning setup, etc
stunning photography – take a photo during a tropical storm (on top of the d-pad)
A heart of gold – send another player a gift card
Show me your moves! – play an EventLab event created by another player
my house – unlock the first player's house
icebreaker – participate in a Horizon Arcade event
Once you complete this, the point is to donate the points you earn, although this is up to you.
How's this punch card going? Let us know in the comments below.