Monster Hunter Stories 2 adventure diary, day 2
For other parts of this diary, follow this link.
Today's escapades took Leia far into monster caves in search of eggs and treasures. We found a Velocidrome egg, which, however, unfortunately became a bit of a disappointment. Well, that was quickly understood by Navirou's lack of enthusiasm. Navirou is a little Felyne who claims that he once saved the world. Maybe this is a hint to its predecessor MonHunS2? Anyway, I've seen Felynes before; they are the game series' poster children in recent years. And who can blame Capcom's PR people there – everyone likes anthropomorphic cats!
Eggstra egg-egg-like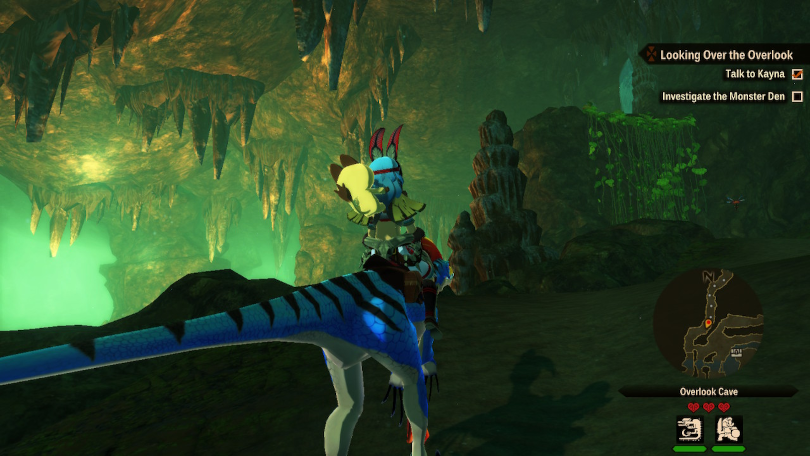 The Velocidrome egg hatched a small creature named Velocidron. Like a Frankenstein's Darwin, I looked at his genes and came to the conclusion that I probably would rather have Ranmar in my team. I mean, after all, he chose me over his regular tamer, my teacher Kayna. And she makes no secret of the fact that it made her a little bitter at me. Velocidron thus became the first monster bestie I release in the wild again.
Today's second egg came from a Yian Kut-Ku. This beast made the neighborhood unsafe for other monsters and I defeated her along with Kayna. After a grand battle (which I now won with new, stronger weapons with simplicity!) She retreated. We followed her to the nest and stole an egg while she slept. Right at home in Mahana, I hatched it and named my new monster bestie Tea-Wrex.
Prayers, talismans and caps
Through all the side assignments and villagers in need, I am constantly learning new things about the village. One of them is the sanctuary which can give you spells. Here you sacrifice talismans or prayers to more easily collect items, experience points or anything else that is an adventurer indispensable.
After this discovery, we stumbled upon a Melynx (more felines <3) looking for caps. If we find them, they promise to give us good items in exchange. Appropriately enough, Chief Gara sends me and Kayna on a mission there. We'll meet the guard Gatha there. And look for caps, of course. But it may be an assignment for tomorrow…