Music plays an essential role in bringing the world of Horizon to life through its speakers. From working with stellar composers to nurturing the creations of our own sound designers, we take great care in blending atmospheric sounds, beautifully written lyrics, and stunning voices to amplify the narrative our teams create. Since we launched Horizon Forbidden West in February, we've seen so many wonderful stories of people enjoying the tracks that bring so much drama and life to the game, immersing themselves in the world, and joining Aloy on her fascinating journey, and we're immensely grateful!
With this in mind, we are pleased to announce that the music from Horizon Forbidden West is now available to pre-order in physical format. A complete collection of over 130 tracks will arrive on CD this holiday season for $49.98*, while two editions will arrive for vinyl lovers. Featuring some of the most iconic songs and tracks from Aloy's journey west, The Essential Collection is available for $39.98*. An extensive 6-disc set that covers the breadth of the Forbidden West's musical landscape, from the choral serenity of Plainsong to the intense combat against Tiderippers and more, the Deluxe Edition is a must-have for fans and collectors alike, priced at $ 169.98 * . Both vinyl editions are expected to ship in spring 2023.
Pre-order the Deluxe Edition vinyl: https://horizon.lnk.to/6LP
Reserve the Essential Collection vinyl: https://horizon.lnk.to/2LP
Reserve the CD collection: https://horizon.lnk.to/6CD
To celebrate, today I want to highlight a song from the soundtrack that is especially dear to us, because it was originally written by one of our sound designers, Lovisa Bergdahl. "In the Flood" wasn't originally written for the sequel, but Lovisa's live demo convinced us that she would bring the game's opening to perfection! She then teamed up with one of our songwriters, Oleksa Lozowchuk, to co-produce the track that now graces the opening sequence as Aloy gallops west (played by Ariana Gillis). The original version of Lovisa can be enjoyed after beating the game, during the end credits.
We are incredibly honored and excited to present our first music video for "In the Flood (Lovisa's Version)"! Watch as Lovisa showcases the song with stunning shots of Aloy and the world of Horizon: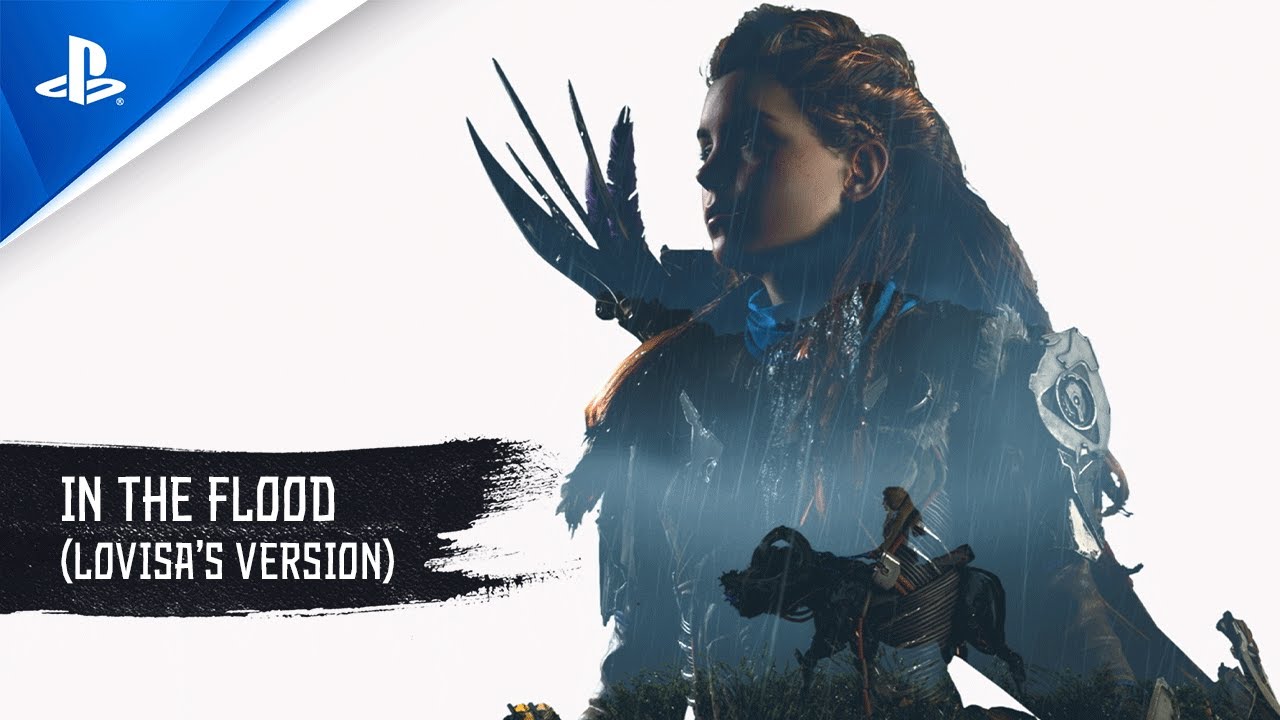 go to the officer Guerrilla Twitch Channel at 7 a.m. PT / 4 p.m. into the Forbidden West!**
If you'd like to learn more about our talented songwriting team, you can check out our Composer Spotlight again featuring behind-the-scenes footage and interviews about the making of the Horizon Forbidden West soundtrack.
Happy listening!
*Recommended retail price. Actual retail price may vary. For local pricing, check out the pre-order links. **If you are unable to make the live stream, you can rewatch it on Guerrilla's YouTube channel on demand: https://www.youtube.com/c/guerrillagames/videos