PowerA Duo Charging Station for Xbox Series X|S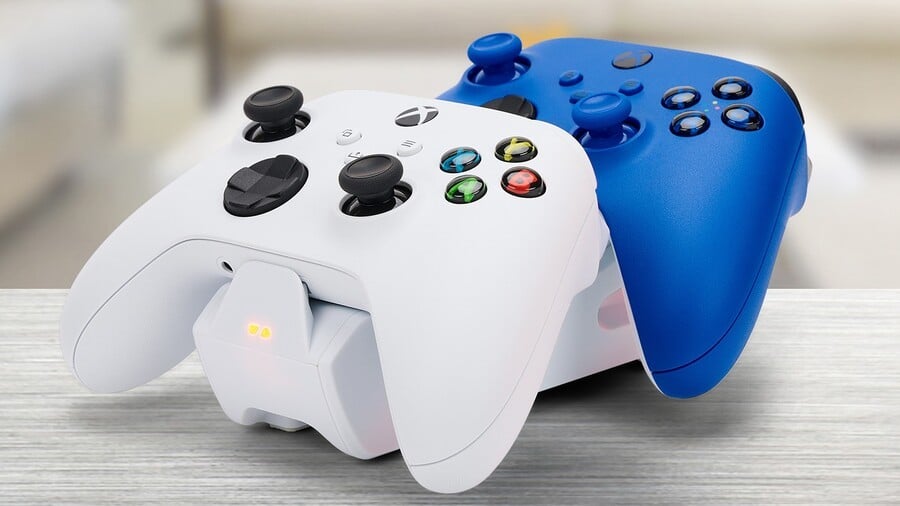 There was a lot of controversy when it was revealed that Xbox Series X and Xbox Series S controllers would still use removable AA batteries in 2020. Even if you weren't happy with that decision, the upside is that you can now get all kinds of battery solutions, from standard AA batteries to rechargeable stations like the one offered here by PowerA, and it's worth exploring all the different options.
This latest line from PowerA actually comes with a few affordable variants. The first is a standard"Charging Stand" for $19.99, or you can double with the PowerA Duo charging station for $29.99, which is what we've been reviewing for the past few weeks. The Duo Station has two 1100 mAh rechargeable battery packs, two last-generation and two next-generation battery covers, and space for two controllers (Series X, S, or Xbox One variants).
So, here's how it works. Once you've unpacked the charging station, you'll need to plug it into a nearby power outlet – no USB connections here. Then you need to put the removable batteries in two controllers of your choice. We tested the batteries with standard Xbox One, Series X, and Series S controllers, along with a Design Lab controller, and they work in all. The fitting is certainly not as snug as an official Xbox rechargeable battery, so you have to press firmly on it, but they fit into place quite easily. Then it's time for the battery covers.
As mentioned, the Duo Charging Station comes with two battery covers for Xbox One controllers and two for Xbox Series X and S controllers, so you just pick the one you need, attach it to the back of your controller and you are ready to go. The two controllers can then be placed on the charging station, where two orange lights will show if they are charging properly. In our experience, you will be looking out for a full charge in about 2-3 hours. We've had issues in the past with charging stations randomly disconnecting, forcing us to keep adjusting the controller, but luckily this hasn't been an issue with the PowerA Duo charging station so far.
Please note that the official rechargeable solution for Xbox One is a 1400 mAh battery while it is only 1100 mAh. As a result you won't get nearly as good performance out of it, but we haven't noticed much of a difference so far, and the fact that you can charge two controllers at once means you can essentially get double the performance of one charge if you like to change the controllers/batteries when one runs out. We haven't had a chance to measure specifics, but PowerA says it's over 20 hours of playtime per charge, and that seems about right.
Of course you can't play with the PowerA Duo charging station (and the single charging stand) while you charge, so if you want a separate option, PowerA also offers a Chargeable battery with a micro USB connector embedded in the battery. This is basically your standard rechargeable battery solution (very similar to Microsoft's) but the difference is that you have an LED charge indicator built into the battery so you can track its progress, along with two more battery covers for optional use with the two charging stations.
In terms of our thoughts on the Duo Charging Station, it does what it says on the tin. It's a hassle-free solution for charging all your Xbox Series X, S and Xbox One controllers, the station itself seems to be well designed, the battery life is good and it's especially useful if you like mixing and matching. with last-gen and next-gen controllers. Thumbs up from us!
Have you tried PowerA charging solutions for Xbox in the past? Tell us in the comments.