Finally, Xenoblade Chronicles 3 announces via a trailer that it will be available on Nintendo Switch this summer. A collector is revealed in image.
Enjoy, you won't see this every day! Xenoblade Chronicles 3 will arrive sooner on Nintendo Switch. The Japanese manufacturer gave a new release date during a presentation that focuses on the game's combat system. Among other things.
When is Xenoblade Chronicles 3 coming out on Switch?
the July 29, 2022it's here new release date from Xenoblade Chronicles 3 chosen by Nintendo. No, you're not dreaming, Monolith Soft's game will be several weeks ahead of schedule. And as a bonus, you even have a unreleased trailer which tells us more about the context of this new episode, as well as its combat mechanics.
Good news ! Xenoblade Chronicles 3 will be released not in September, but on July 29! Watch the new trailer to discover its combat system and learn more about its universe.
Lead up to 7 characters into battle : As in previous Xenoblade Chronicles games, combat is initiated by directly attacking enemies on the field. Players can take control of Noah's six-member party, as well as control additional characters the party encounters along the way. Each character taking on a particular role on the battlefield, it is possible to establish all kinds of strategies.

Class changes : Noah is a swordsman who specializes in close combat, while Mio is a zephyr who draws the enemy's attention while dodging their blows brilliantly. Each character thus belongs to a distinct class which gives them unique advantages. As the adventure progresses, players will be able to customize the composition of the party by changing the class of each of its members.

Interlink : each duo of the group, Noah and Mio, Lanz and Sena, or even Eunie and Taion can use the Interlink after fulfilling certain conditions to merge and take the form of a gigantic Ouroboros. Each Ouroboros has its own combat techniques, and triggering this transformation at the right time will be the key to achieving victory.
A collector's item exclusive to My Nintendo Store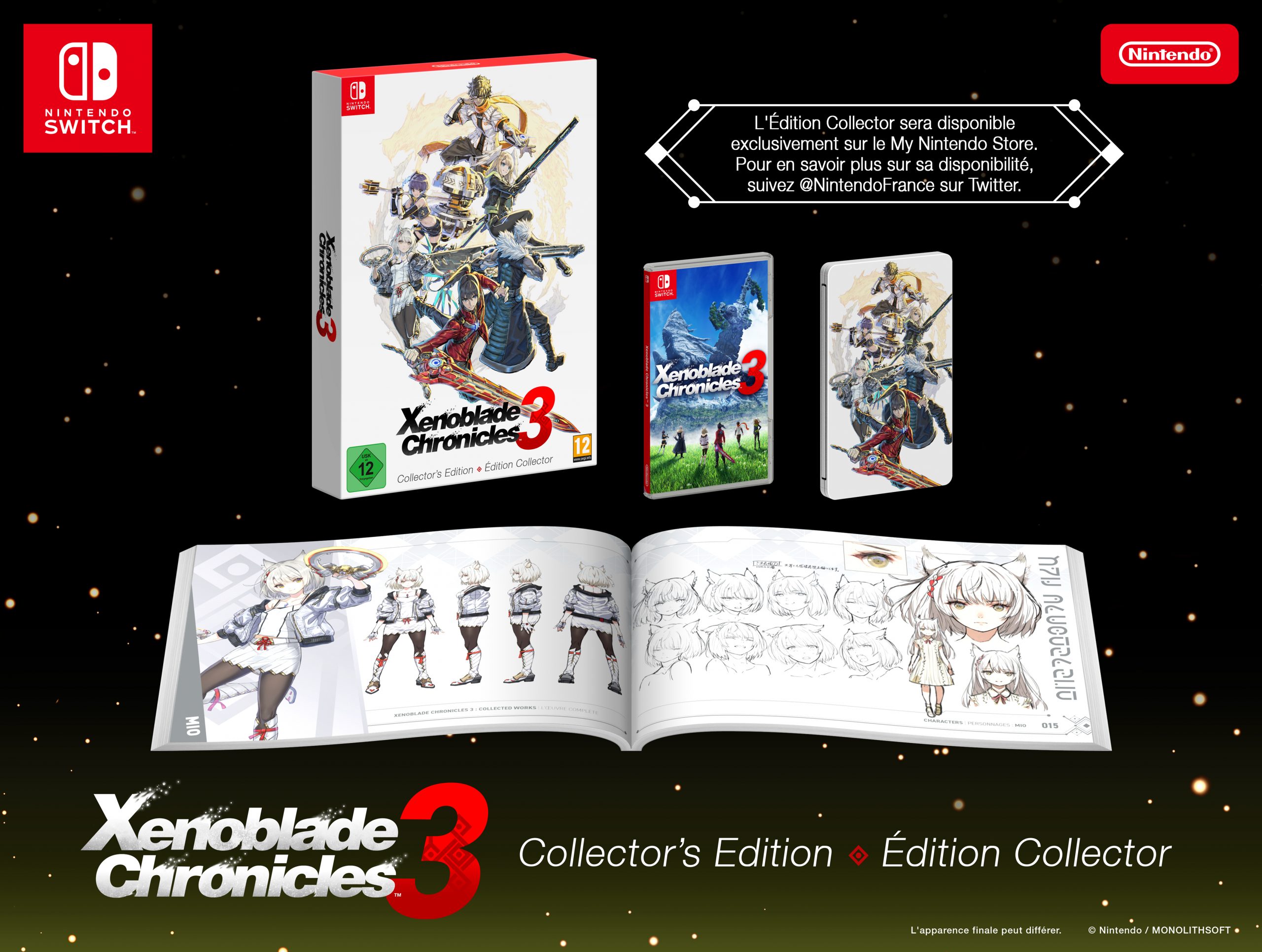 Xenoblade Chronicles 3 will be released on July 29, 2022 on Nintendo Switch in classic physical version, but also in collector's edition. No price given but here are some the contents :
A colorful hardcover 250-page artbook
A steelbook with the game
A cover signed Masatsugu Saito
A collector's edition to be reserved only from the My Nintendo Store, which will therefore not be offered in stores.